Chinmaya Vidyalaya is nestled in about three acres of land amidst lush green environs away from the hustles and bustles of the city about 10 km from Mandya towards Mysore.
At present, the school building is almost complete with three floors comprising about 43 Spacious rooms.The school now includes a well-stacked library, besides modern science laboratories including a fully fledged computer lab, Math Lab as well as an exclusive English Language lab.
As an institution that believes in equal emphasis to both curricular and co-curricular activities, we have made it a point to provide an outdoor stage and well laid structured playground. Further construction of another eight rooms is under progress. The campus of the Vidyalaya is fully secured with all round compound wall.
The Vidyalaya offers our children ample opportunities, as the school inspires innovative thinking and path-breaking creativity. We provide the much-needed foundation for the child's educational progress and holistic development. Regular parent-teacher meetings, competence oriented papers, child-centered activity packages, and scientifically graded evaluation processes extol exuberance and elation that embrace action at school
TEACHERS
Chinmaya Vidyalaya Maintains a well qualified and experienced team of dedicated Teachers. Numerous teacher training programmes are conducted regularly to enhance their understanding of curriculum and delivery mechanism.
OPTIMUM STUDENT-TEACHER RATIO
The student strength is restricted to 35-40 in every class so that a healthy student-teacher ratio is maintained and each student gets individual attention from teachers
OUR MULTIMEDIA CLASS ROOMS
IN ASSOCIATION WITH EDUCOMP
Every classroom of Chinmaya Vidyalaya is equipped with an overhead projector and a digital screen. These Multimedia classrooms bring about a complete transformation in the teaching process. It brings technology into the classroom. along with an exhaustive repository of world-class digital modules or lessons, (consisting of 2D and 3D animations, graphics, audio, and video) on every subject in the K12 spectrum, which the teacher could easily access and project in the classroom that illuminated and explained abstract and difficult concepts with clarity. The classroom gets transformed into a fascinating place to be in as a new generation of learners sees (instead of just being told and explained) for the first time how things happened.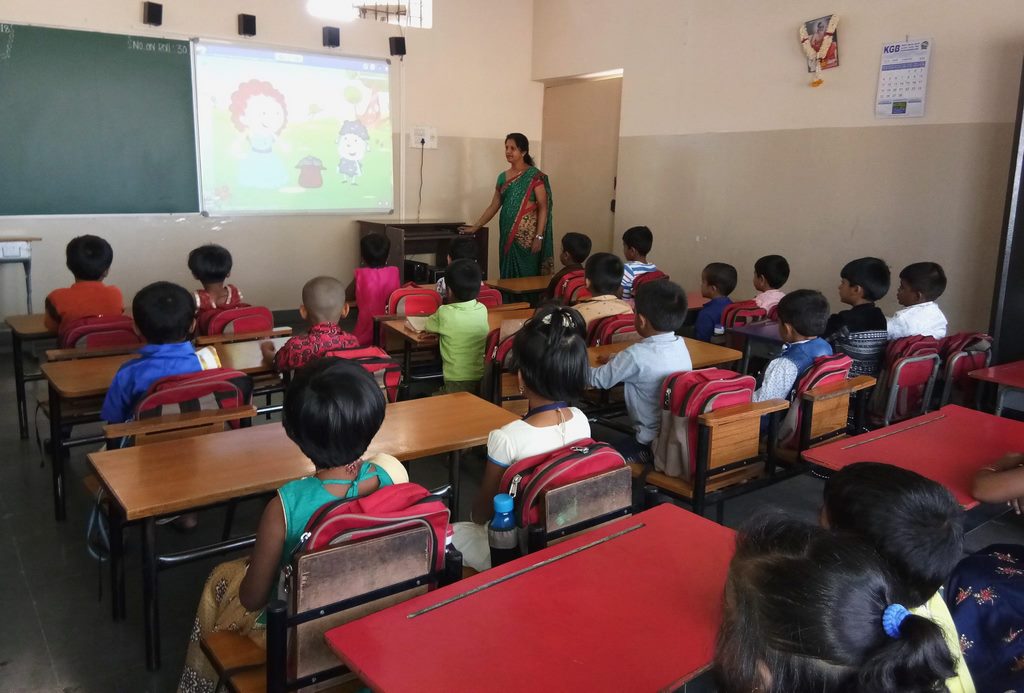 It improves teacher effectiveness and productivity in class.


It brings abstract and difficult curriculum concepts to life inside classrooms.


Makes learning an enjoyable experience for students.


Improves academic performance of students.


Enables instant formative assessment of learning outcomes in class.
It also enables teachers to instantly assess and evaluate the learning achieved by their students in the class.
INTEGRATED SCIENCE LAB

The school as a spacious Modern science lab equipped with all the latest scientific instruments required for the effective teaching of Physics, Chemistry, and Biology. The integrated science lab provides for the integrated study of science where they get the right impetus to learn by doing. We help the students to inculcate and develop a scientific temperament and provide a perfect platform for scientific knowledge.
LANGUAGE LAB

Language lab is an Audio Visual installation used as an aide in modern language teaching. The year 2015, was another landmark when we started the English Language lab in association with Britannica which trains and improves a child's speaking and listening abilities. The Vidyalaya takes pride in being the only school in the district, offering this special feature to facilitate quality communication skills in our children.
MATH LAB

In the year 2014, Math lab was introduced in association with NIIT to make the learning of Mathematics practical and fun. The hands-on learning approach towards mathematics is expected to alleviate possible fear in students towards math. These labs enable students to learn end explore mathematical concepts and verify mathematical facts and theorems using manipulatives and technology tools. This pioneering initiative by the Vidyalaya is found to be welcomed by the children in a big way.
COMPUTER LAB

A well-equipped computer lab has been established. High impact learning tools have enriched the teaching-learning process. We are well equipped with all the necessary hardware and software requirements. Multimedia lessons are thoughtfully incorporated into the teaching process. 24 hrs internet facilities are available for online education.
TOILETS

Well maintained hygienic toilets are provided exclusively for boys and girls on each floor. Hygienic drinking water facility is made available.
An exclusive Infirmary is provided for resting the sick and ailing students.
SAFETY & SECURITY FEATURES

The sprawling campus of the Vidyalaya has been secured with all round compound wall with security at the main entrance. All vantage points in the school have been strategically covered by 24x7 CCTV Surveillance. A 25 KV Generator provides backup power supply The campus is wi-fi enabled.