Swami Tapovan Maharaj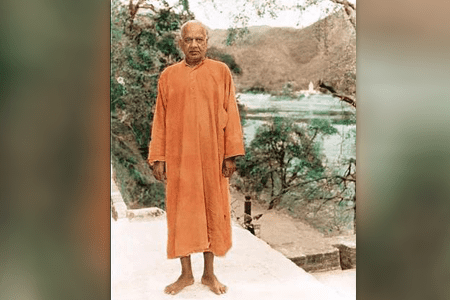 Swami Tapovan Maharaj was a consumate vedantin, a strict teacher, poet and a sage of great wisdom and tranquillity. He was that pristine glacier of Self-knowledge from whom flowed the Ganga of Vedantic wisdom through Swami Chinmayananda, the founder of Chinmaya Mission. Swami Sivananda called him 'Himavat Vibhuti,' meaning "the glory of the Himalayas; and in the world of sages and ascetics, he is acknowledged as one of the four great enlightened masters of Vedanta who lived in the Himalayas during the time, along with Swami Vishnudevananda, BrahmaprakasaUdasina, and Devagiri Swami. That Truth, which Swami Tapovanam realized and indicated in all his teachings, is beyond words, as much as he himself was. Swami Chinmayananda said of his Guru, "He was a God without a temple, a Veda without language.
Swami Chinmayananda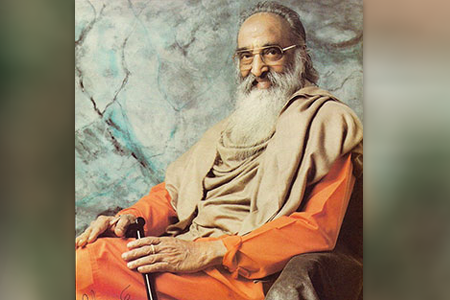 On 8 May 1916, a child was born as so many other children were born. Born to ordinary parents – a lawyer father, a home maker mother, Balan went to school like all kids do; he would later acquire a degree in English Literature, plunge into the Freedom Movement of India against British rule, be imprisoned, fall frightfully ill, be thrown out of jail for that, be rescued by a strange lady, start writing for a newspaper, make fiery speeches and plan even more fiery exposes and then, all too suddenly abandon all that, for none of them explained to him the purpose of his birth. Clearly, Swami Chinmayananda was an unusual young man. Swami Chinmayananda conducted his first Jnana Yajna (a series of spiritual discourses) in December 1951, at a small temple in Pune, Maharashtra. Jnana Yajna, a term he coined from Lord Krishna's teachings in the Shrimad Bhagavad-gita, refers to the student who through scriptural studies performs the ritual of worship (yajna) at the altar of wisdom (jnana). Chinmayananda is known for teaching Bhagavad gita, the Upanishads, and other ancient Hindu scriptures. From 1951 onward, he spearheaded a global Hindu spiritual and cultural renaissance that popularised the religion's esoteric scriptural texts, teaching them in English all across India and abroad. An inspired band of devotees thus formed 'Chinmaya Mission' on August 8, 1953.
Swami Swaroopananda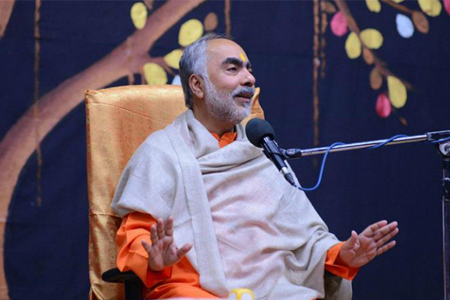 Formerly the Regional Head of Chinmaya Mission Australia, United Kingdom, Middle East, Africa and Far East, and presently Chairman of the Chinmaya Vishwa Vidyapeeth Trust (University for Sanskrit and Indic Traditions) and Director of the Chinmaya International Residential School in Coimbatore, South India, Swami Swaroopananda has now been bestowed by Swami Tejomayananda the privilege to also serve as the Head of Chinmaya Mission Worldwide. Born and brought up in the bustling commercial capital of India, Swamiji had always been convinced that beyond life's superficial, everyday joys and sorrows, there was something more enduring and satisfying. As a child, he heard from his grandmother many religious stories based on the great Indian epics and the history of saints. These stories suddenly came to life, acquiring new meaning and depth, when as an adolescent he encountered the preeminent Master of Vedanta, Swami Chinmayananda. His heart completely moved and inspired, in 1984 Swami Swaroopananda gave up his family's thriving business in Hong Kong to undergo intensive training under Swami Chinmayananda and Swami Tejomayananda at Sandeepany, Mumbai. He was initiated into the monastic order in 1992. Since then, he has touched thousands of lives across the world, and his tremendous work in bringing out the essential wisdom and underlying unity of all religions has garnered him a place among the vanguards of self-development philosophy.
Swami Tejomayananda
Swami Tejomayananda is the former Head of Chinmaya Mission Worldwide, a position he held since 1993 after Swami Chinmayananda attained Mahasamadhi. If Swami Chinmayananda served the cause of Vedanta with his service, knowledge and pioneering qualities, Swami Tejomayananda – fondly addressed as Guruji – completed that with his natural attitude of devotion. This is richly and abundantly evident in his talks, his singing, and his demeanor. But the gentleness of devotion arrived riding on the back of an intense education in physics, going up to a Master's degree. Born, Sudhakar Kaitwade to a Maharashtrian family in Madhya Pradesh, this physicist had a close encounter that changed the velocity, direction, and path of his life. Two decades have gone by, and one can see how seamless the transition has been. Swami Chinmayananda's vision, mission, and drive have been as if passed on with the mantle and every dream is fulfilled with the same organizational zeal. The number Chinmaya Mission centers have substantially increased. In fact, they have almost doubled. New projects have been envisioned, enabled and executed effortlessly.
Notable amongst these are:
Chinmaya International Residential School in Coimbatore.
Chinmaya Centre of World Understanding in New Delhi.
Chinmaya International Foundation near Cochin
Chinmaya Heritage Centre in Chennai.
Expansion of the Chinmaya Mission Hospital in Bengaluru and • Chinmaya Vibhooti Vision Centre near Pune
Swami Brahmananda
Pujya Swami Brahmananda is one of the senior disciples of Pujya Gurudev, Swami Chinmayananda. Swamiji's clarity on profound Vedantic truths has made his spiritual discourses popular throughout India. Swamiji has also endeared himself to millions with his mastery in Sanskrit chanting and resonant devotional hymns.
Renunciation and Spiritual Quest :
Born to a devout family in Pavanje Village in South Karnataka, the making of this spiritual luminary was visible from childhood. Inspired by Pujya Gurudev, the young seeker of knowledge underwent rigourous training at Chinmaya Mission's Sandeepany Sadhanalaya ashram in Mumbai. After the completion of the intensive three-year Vedanta course, Pujya Gurudev, recognising the brahmachari's mastery of the scriptures and missionary zeal, asked him to begin conducting spiritual discourses immediately.